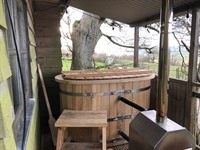 FAQ's
Is the hot tub private?
Yes, all hot tubs with Owl Lodge, The Doghouse and Copse Camp are private.
Can I bring pets?
Yes we are pet friendly and you can bring as many as you feel comfortable with, however we do change £10 per dog per stay.
Do you provide the logs?
We provide enough logs that if you are careful with the fire you don't need anymore. More logs can be purchased from us if needed at £5 a bag.
Are linen and towels provided?
Yes and bath robes too for your comfort.
Is there an oven in the kitchen?
There is a gas hob and microwave and mini oven in The Dog House and an induction hob and combi microwave in Owl Lodge. Copse Camp has a outdoor kitchen with twin gas burners and a fire pit with various cast iron pans, griddles and a dutch oven.
Are basic condiments provided?
We provide - salt, pepper, oil, tea, coffee and sugar.
What time is check out?
Midday
Are we restricted to the size of vehicle we bring?
We have ample parking available, access is via a single track and we can accommodate up to a large cargo van size.
Do you have wifi available?
Although we do have broadband it is not the fastest